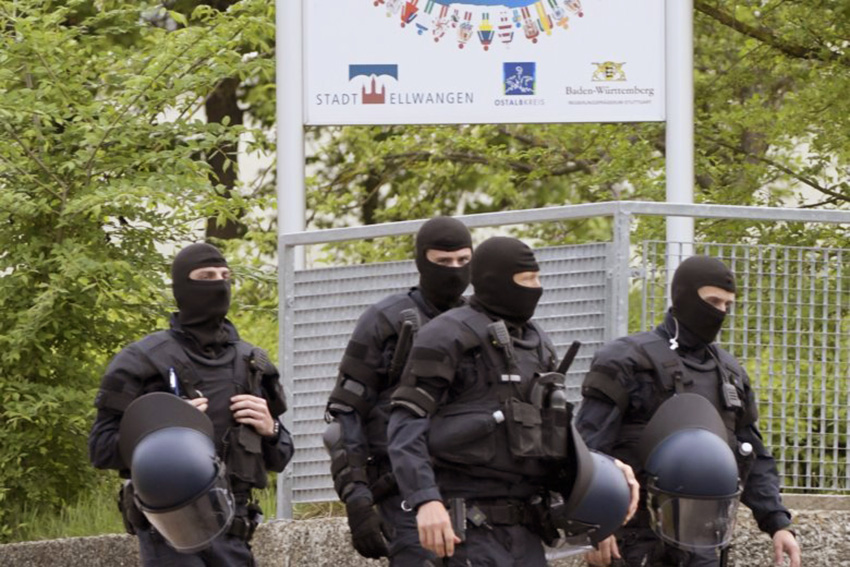 Hundreds of German police officers raided a refugee shelter in the southern town of Ellwangen on Thursday, days after an angry mob of migrants prevented authorities from deporting a 23-year-old man from Togo.
The massive police operation came as Germany's top security official presented a new "master plan on migration."
Interior Minister Horst Seehofer vowed he would do everything he could to clamp down on illegal immigration, speed up asylum procedures and deport rejected asylum-seekers as quickly as possible.
"What happened (in Ellwangen) was a slap in the face of the law-abiding population," Seehofer — who is well-known for his law-and-order stance — told reporters in Berlin.
"The right to hospitality cannot be trampled on like that," he added, promising that security authorities would "use all their force and determination" to prosecute those asylum-seekers who blocked police from executing the deportation Monday in Ellwangen.
Bernhard Weber, deputy police chief in the town of Aalen near Ellwangen, said the big police operation was necessary because of the "unprecedented" situation officers had faced when they arrived to pick up the Togolese man.
"They were massively prevented from doing so, violently, by about 150 to 200 African refugees," Weber told reporters.
Weber said a decision was taken to return early Thursday to enforce the deportation of the man to Italy, which he passed through on his way to Germany. Under European Union rules, people have to apply for asylum in the first EU nation they enter.
Seehofer said he also wants the German government to declare several nations — including Morocco, Tunisia and Algeria as well as Georgia — as "secure home countries," lessening the chances that applicants from there will be granted asylum. Full Story